Best Practices for Applied Behavior Analysis (ABA) Agencies in Client Documentation
When running an Applied Behavior Analysis (ABA) agency it is imperative for owners and practitioners to maintain appropriate client documentation of treatment in the event of an audit. This blog post provides Board Certified Behavior Analysts (BCBAs) and ABA business owners with some tips and considerations for clinical documentation for clients.
Presenter: Brian Conners, Edd.S., BCBA, Faculty Associate, Seton Hall University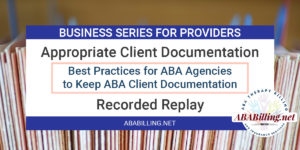 Click here to watch Brian's webinar!
Before Becoming a Client
When initially being contacted for consideration for ABA services it is important for ABA business owners to ensure that there is a strong intake process in place that acquires all the necessary information to make clinical decisions and determine the appropriateness of fit for the client for services through the agency. Recommended information to gather during intake includes the following:
Basic demographic and contact information (e.g., name, date of birth, social security number, address, phone number, email, etc.).
Insurance information including insurer's name, patient name, member ID number, group ID number, etc. Keep a copy of the insurance card for the client's file.
Emergency contact information in the event of a medical or psychiatric emergency.
Medical history including birth/developmental history, current diagnoses, medications and dosages, history of seizures, vision problems, hearing difficulties, allergies to medications, food allergies or environmental allergies, etc. With the medical history, it is also best to ask parents/guardians for copies of all current and past evaluation reports from neurologists, psychiatrists, developmental pediatricians, and other professionals.
Script for ABA services from a medical professional indicating that ABA is a medical necessity and has diagnosis codes on it.
A list of other therapeutic services being provided with contact information (e.g., speech therapy, occupational therapy, physical therapy, psychiatric services, etc.) and completed consent forms for contacting those providers for collaboration.
Educational history of the client and have the parents/guardians provide a copy of the client's educational evaluations from the school and current 504 plan or Individualized Education Program (IEP).
*Note: Educational documents should ONLY be used for clinical purposes. Any documents from a school should NOT be sent to insurance companies — this can cause denials or reduction in hours from insurance companies. Insurance companies cannot demand access to this information. A family does not need to submit educational documents to insurance, even if requested.
Family background including marital status, who cares for the client, sibling information and if siblings have diagnoses, mental health history of parents, and if there are other individuals residing in the home or are responsible for caring for the client that might need to be involved for training in the home.
Current behavioral concerns should be indicated including any behaviors that might involve potential comorbidity with significant psychiatric conditions.
Identify parent/guardian goals for behavioral treatment from the onset.
Discipline information regarding who predominantly provides discipline in the home or if it is split equally between parents/guardians and the type of disciplinary procedures used (e.g., timeout, giving an additional chore, withholding privileges, etc.)
Identify any religious/spiritual beliefs or values about disabilities/mental health, discipline, or behavioral treatment that might influence ABA services. This is important as there may be pieces of a person's beliefs that might impact the service delivery model, especially when it comes to parent/guardian training.
Determine any cultural beliefs or values about disabilities/mental health, discipline, or behavioral treatment that might influence ABA services. The same is true as with religious/spiritual beliefs in that a family's cultural beliefs or values can impact the service delivery model for ABA treatment and at times is often overlooked by providers in the field.
Consent forms should also be completed for photographing or audio/videotaping clients, as well as a service agreement, payment policy, HIPAA privacy statements, and all other necessary agency policies and procedures as dictated by your agency, local, state, and federal laws.
After obtaining the necessary information as part of the intake process, an intake team should meet to review all the documentation and determine the appropriateness of fit of a client based upon the expertise of the ABA agency and practitioners. It is important for BCBAs and ABA business owners to remember to adhere to the Behavior Analyst Certification Board's Professional and Ethical Compliance Code. Therefore, agencies should only accept and work with clients that the agency and BCBAs have experience and training in working with or an outside BCBA with the experience may be needed to be contracted on a consultative basis to supervise the case. This is an important concept for agencies to remember that they do not have to accept all clients that get referred to them if they cannot ethically provide treatment and instead should refer them to another agency that may be better suited for the client.
During ABA Treatment
If an ABA agency decides to move forward with providing ABA services to a client, then the agency will want to make sure that staff are collecting the appropriate clinical documentation. The following are suggested areas for clinical documentation:
Assessment results from initial evaluation and ongoing/reevaluation results including the written report and graphs with treatment goals and recommendations. Furthermore, agencies should retain all original protocols used for the evaluations as part of the client's record.
Treatment plans detailing the goals and objectives of treatment programs with appropriate consent forms. This should be for initial and updated treatment plans every 6 months for most insurance companies.
Progress reports should also be retained which should include graphs and documentation of treatment session progress toward goals.
Data from each treatment session with raw data and graphs should be retained in the client's records. It is easier to maintain data collection with online data collection tools to monitor client progress and will often make graphing and progress reporting easier.
Session notes for direct services staff (i.e., Registered Behavior Technicians) and parent/guardian training, supervision sessions, and ongoing assessment from BCBAs.
It is important for ABA agencies to follow all local, state, and federal laws regarding the privacy and safeguarding of client records.
Discharge of ABA Services
Finally, if a client is being discharged from ABA treatment then the agency should be sure to maintain documentation for their records. The following are suggested to be included for documentation purposes:
Final evaluation results documenting the client's mastery of skills in a final assessment report.
Discharge plan for the client as to how supports will be faded and generalization has been taught to maintain skills that have been acquired during treatment.
Final data and graphs should be saved documenting final progress in treatment.
Discharge form should be given to families summarizing the progress made and any post-treatment follow-up that might be recommended.
Agencies should retain all of the data and reports from treatment in the client's record as dictated by law and regulatory bodies.
Conclusion
In summation, appropriate documentation is crucial for running any high-quality ABA agency. It is suggested that ABA agencies develop a strong system of data collection and train staff on the necessity of retaining data and records in the event of an audit. Furthermore, it is recommended that agencies perform their own internal audit randomly throughout the year in order to ensure data collection and documentation practices are meeting industry standards.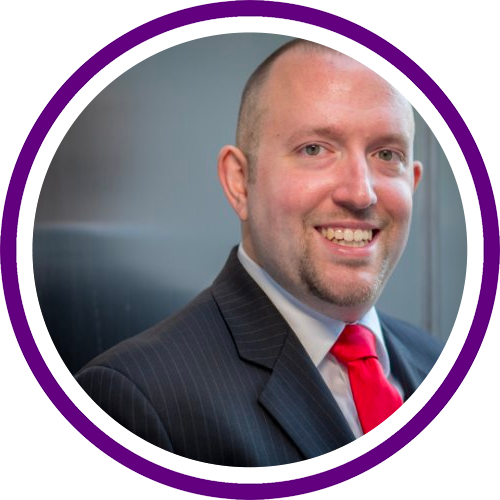 Brian Conners, Ed.S., BCBA
Guest Presenter
Brian Conners, Ed.S, BCBA is a Board Certified Behavior Analyst and New Jersey Department of Education certified school psychologist with over 10 years experience in the field. He originally developed the graduate program in Applied Behavior Analysis at Seton Hall University and is a Faculty Associate at the university teaching courses in Applied Behavior Analysis and special education. He has worked within various sectors as a behavior analyst and consultant including public and private schools, psychiatric hospitals, and community agencies. He also was the former owner and Chief Executive Officer of a nationally recognized Behavioral Health Center of Excellence for four years. He specializes in providing behavioral treatment to clients with severe developmental disabilities, emotional and behavioral disorders, and psychiatric conditions. His clinical areas of expertise include behavioral crisis intervention, behavioral assessment, and providing treatment and interventions for clients with the severe problem behaviors of physical aggression and self-injury. He has presented at state and national conferences and has published articles and book chapters in school psychology and special education on behavior management strategies, crisis intervention, restraint and seclusion practices in schools, and multiculturalism and diversity issues in behavior analysis. He currently maintains a private practice, Brian Conners, BCBA, where he provides ABA consultation and public speaking engagements on various topics in ABA, school psychology, and special education.