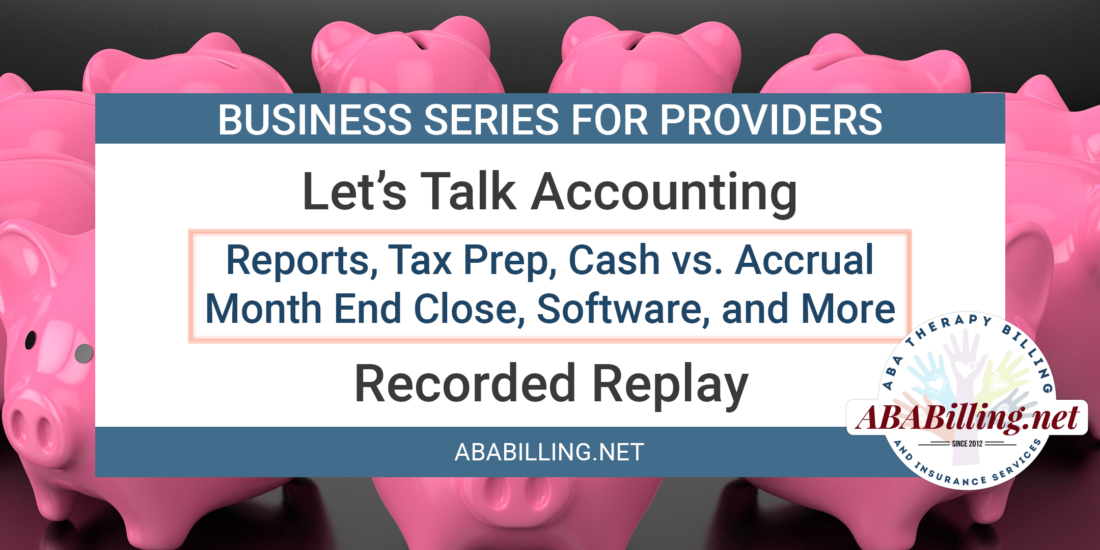 Webinar: Let's Talk Accounting
Presented by Michele Silcox
CEO, ABA Therapy Billing and Insurance Services
How to run reports or prepare information for your tax accountant, management or for your own statistical review. We will cover the difference between cash and accrual basis accounting and what information will support a month end close of your books. Also providing tips to set up your Quickbooks or other accounting software to be complimented by your practice management data. Join us to learn how to keep a pulse on these critical financial factors for your company.
If you are already a registered member, click the Login tab to login now.
If not, use this form to register and to purchase 1 month access to this webinar:
Note: After purchase through PayPal, you will be taken to a Thank You page. Once you are there, click the link with the title of this webinar to come back to this page.
Single Webinars

Single Webinar On-Demand Access
Easy PayPal Payment
Silver Membership

All Access On-Demand for 1 Month
Easy PayPal Payment
Gold Membership

All Access On-Demand for 1 Year
Easy PayPal Payment
Includes Live Webinar Registration for 1 Year
Login