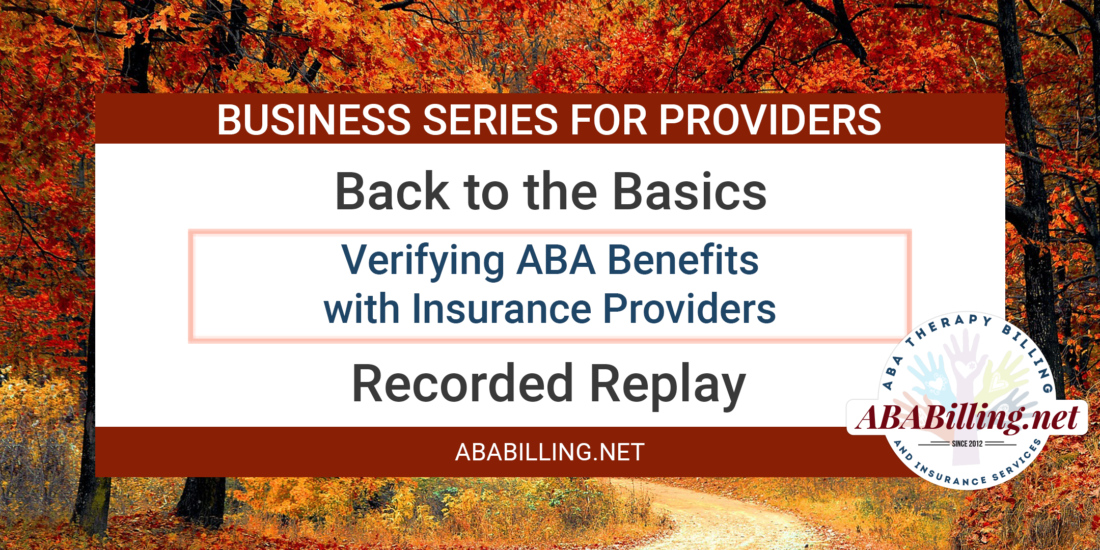 Back to Basics Webinar: Verifying ABA Benefits with Insurance
---
---
Note: Due to scheduling issues and the upcoming holiday, the November webinar will be prerecorded and posted on our website for viewing.
Presented by Emily Roche
As we head into the final quarter of the year, it's a good time to look at procedures for verifying insurance benefits for the new year to come. We also know that for every one person out there comfortable with verifying benefits, there are two new people just learning the ropes. Two new states passed insurance mandates this year (way to go Idaho and North Dakota!). Lots of new ABA agencies are joining the field, and other companies are growing large enough to hire additional administrative staff. All of this growth is great to see in our industry, but it also means that we need to remember to slow down and keep teaching the basics to all our new members.
Emily has written a blog to help get you focused for the processes she will discuss in her webinar. The blog is posted here: Back to the Basics
The webinar will cover everything you need to know to stay verified. And Emily will be supplying all subscribers with reusable handouts that will help you with keeping track of information and knowing what you need to ask when speaking with insurance reps.
Due to the reusable nature of the materials involved, we must ask $25 for this webinar. With the time and frustration you will save, this is well worth the cost!
Register Now for Access to the Webinar and Handouts as Soon as They Become Available