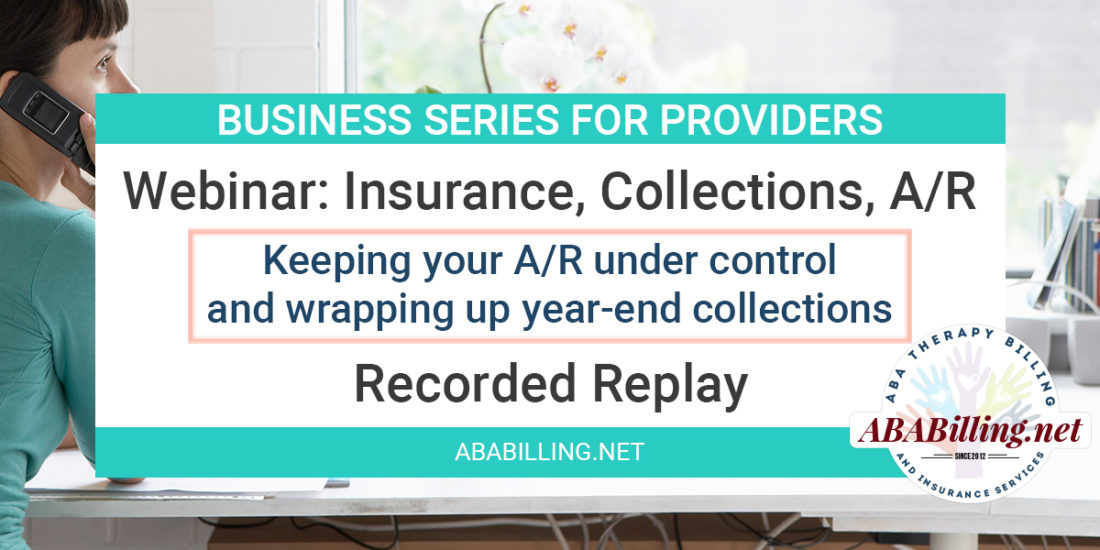 Webinar: Insurance, Collections, and Accounts Receivable
Insurance, Collections, and Accounts Receivable
Keeping your A/R under control and wrapping up year-end collections. 
As you begin a new year, it is always nice to close out a prior year and start fresh. This webinar covers tips and processes for tracking and resolving old A/R issues, dealing with high deductibles, and keeping your cash flow consistent. We also cover questions regarding writing off bad accounts from previous years, pursing outstanding insurance payments, and recoding adjustments in income for contracted insurance rates.
If you are already a registered member, click the Login tab to login now.
If not, use this form to register and to purchase 1 month access to this webinar:
Note: After purchase through PayPal, you will be taken to a Thank You page. Once you are there, click the link with the title of this webinar to come back to this page.
Single Webinars

Single Webinar On-Demand Access
Easy PayPal Payment
Silver Membership

All Access On-Demand for 1 Month
Easy PayPal Payment
Gold Membership

All Access On-Demand for 1 Year
Easy PayPal Payment
Includes Live Webinar Registration for 1 Year
Login