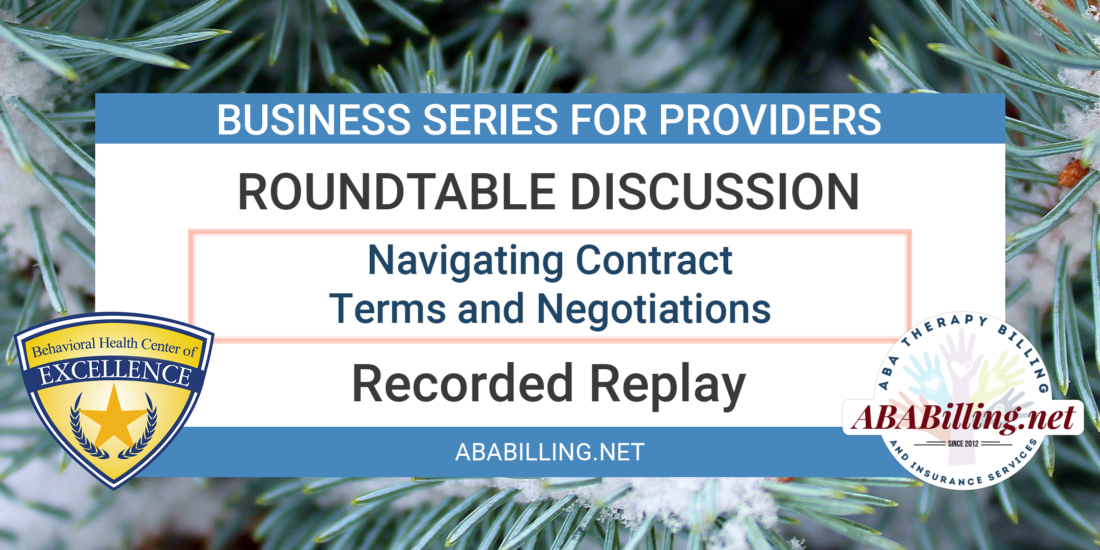 Webinar: Navigating Contract Terms and Negotiations
Roundtable Presented by:
Emily Roche—Consultant and prior Director of Services for ABA Therapy Billing and Insurance Services
Sara Gershfeld Litvak, MA, BCBA—CEO, Behavioral Health Center of Excellence
Diana Wolf, MA, BCBA, LBA—Co-CEO of Verbal Beginnings
Michele Silcox, CMRS—Owner of ABA Therapy Billing and Insurance Services and MS Consulting, LLC
Join us for a roundtable discussion related to navigating contract terms and negotiations. Four leading industry professionals will discuss a task list of what to pay attention to during contract negotiations, the impact for evaluation of the quality of your services, examples of steps taken to navigate the preparation process for rate discussions, what to consider when understanding intent and implementation of new Category I codes, and submitting claims with your agency fee schedule.
Click Now to Purchase Permanent Access to This Webinar
The content you are trying to access is only available to members.
Gold and Silver Members