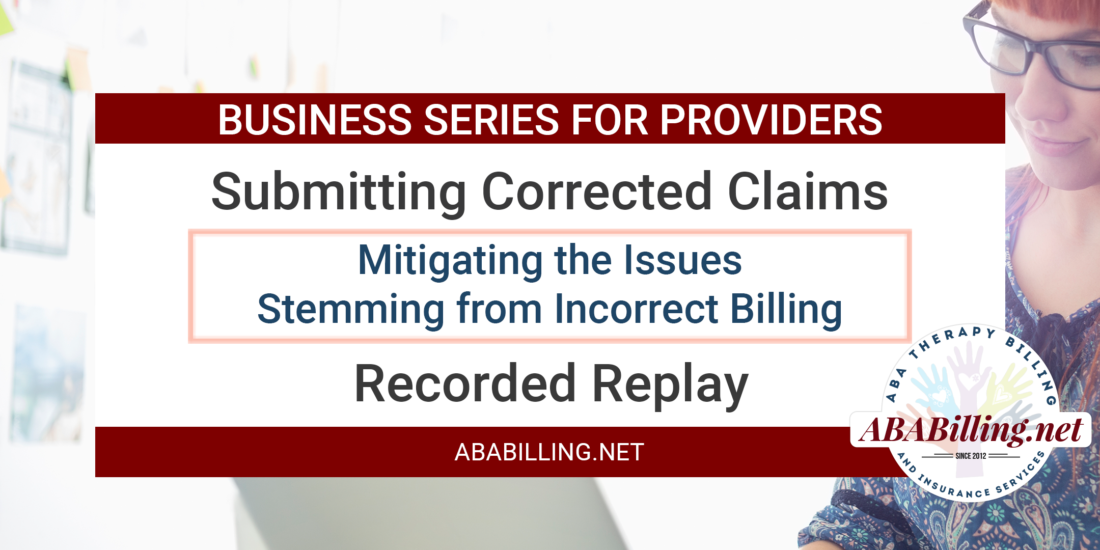 Webinar: Submitting Corrected Claims for ABA Therapy
In this webinar, we discuss the process for submitting corrected claims. As we dig deeper into issues that come up with ABA Billing, we have found that many claims or payment issues stem from incorrect billing and can be mitigated by correcting the billing being sent out. During this webinar we review how to submit a corrected claim, how to void claims that need to be resubmitted with different data, and how to identify common billing scenarios that need these actions.
If you are already a registered member, click the Login tab to login now.
If not, use this form to register and to purchase 1 month access to this webinar:
Note: After purchase through PayPal, you will be taken to a Thank You page. Once you are there, click the link with the title of this webinar to come back to this page.
Single Webinars

Single Webinar On-Demand Access
Easy PayPal Payment
Silver Membership

All Access On-Demand for 1 Month
Easy PayPal Payment
Gold Membership

All Access On-Demand for 1 Year
Easy PayPal Payment
Includes Live Webinar Registration for 1 Year
Login